April Fool's!
04-02-2015 | Matthew Podolsky
Well I definitely tricked more people than I expected into believing the content of yesterday's April Fool's day post here on the Scavenger Hunt blog! I do apologize for any confusion that this may have caused – this blog is not usually a space for humor or pranks and I understand that I may have caught more than a few people off guard.
I understand now that the reason I was able to fool so many people with yesterday's post is that the fake situation I imagined truly is a conceivable outcome for this issue. I won't name names, but I talked to several people yesterday after this post came out who are closely involved in the politics of this issue, and I had them fooled! It seems as though I came quite a bit closer to reality that I realized!
The fact that my little imagined scenario is so believable here in our current political climate surrounding the lead ammo issue means that we may be closer than we think to finding a legitimate compromise. Where we stand seems pretty bleak at the moment; the messages coming from the NRA and like-minded groups had devolved over the past few years. While two or three years ago these groups had accepted that condors are being poisoned by the lead found in ammunition, now they say this lead that the condors are ingesting must be coming from somewhere else. There used to be occasional praise from these groups of the Arizona Game and Fish Department's voluntary non-lead ammo program, but this has been silenced.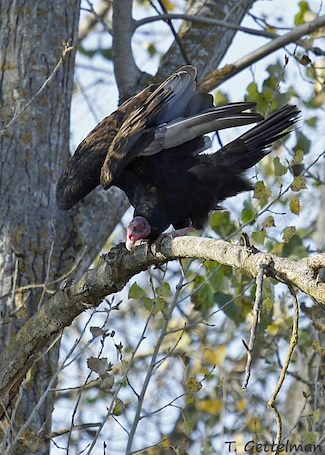 As the politics of the situation regress, the science continues to move forward. The study that I mentioned in yesterday's post is real. No joke – all the Turkey vultures and Black vultures that were tested as a part of this research showed signs of chronic lead exposure – 100%! Several years ago, while shooting for Scavenger Hunt, I sat at a conference presentation and listened to Lawrence Keane from the National Shooting Sports Foundation claim that lead couldn't be a real problem for scavengers (other than the condor) because every time he looks up in the sky he sees a Turkey vulture. Well, Larry – those Turkey vultures that you're looking at are all suffering from chronic lead exposure – most likely every single one of them that you see.
Is this okay because the populations of these species remain robust? What does this mean for human populations? One of the most striking components of this paper is the comparison between lead found in the bone, and lead found in the soft tissue. The researchers found that soft tissue lead was not a good indicator of long-term exposure. No surprise here – this research had already been done on humans. Well known pediatrician and lead poisoning expert Herb Needleman had his breakthrough in his research on the effects of childhood lead poisoning when he started collecting children's teeth when they would fall out for his study. Through this method of analyzing the levels of lead in these teeth, he was able to make the connection between low level childhood lead exposure and IQ scores later in life.
So could lead from ammunition be causing low-level human lead exposure? I don't think we'll have a definitive answer on this until someone replicates Herb Needlman's research using the teeth from children that regularly consume wild game meat harvested with lead ammunition. This new research on vultures certainly serves as an indicator that there is a lot more lead out there in our environment than we may have previously thought, which in my mind increases the likelihood that us humans are being effected. It's certainly not a risk that I'm willing to take, which is why I harvest big-game with non-lead ammo.