Harvesting My First Elk
11-17-2014 | Matthew Podolsky
This past weekend I shot my first elk.  Aside from the freezer full of meat, this hunt was an amazing learning experience and an opportunity to explore some truly spectacular country.  I was hunting with my good friend Thomas Hayes, who was kind enough to take me to one of his favorite hunting spots.  Although I won't reveal the exact location (I was sworn to secrecy!), I'll just say that we were up in the mountains Northeast of Boise in an incredibly beautiful spot.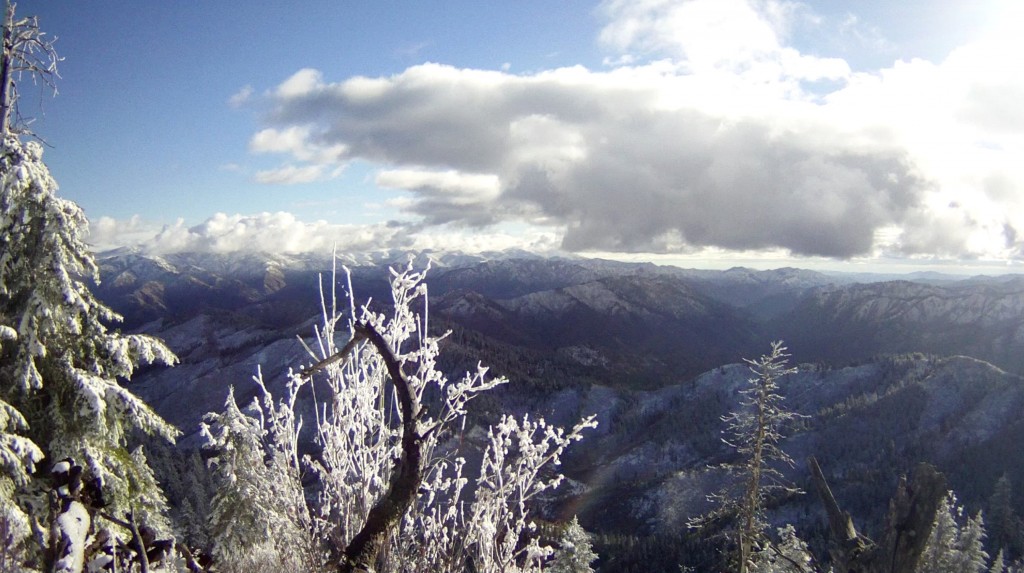 For the unit that we were hunting, elk season starts on November 1st, and ends November 9th, so we had a limited amount of time to get an animal.  This hunt is for antlered elk only, so we had to find a male (cow tags in this area are a lottery draw, whereas this tag is unlimited and can be purchased over the counter).  Thomas and I got an early start the morning after Halloween, leaving Boise several hours before daybreak.
We started our hike as the sun was rising, carrying everything that we would need for three days of backcountry camping.  We set up camp on top of a forested ridgeline, right in the midst of elk country, and began searching for animals.  We didn't have much luck that first day – we spotted a group of elk from a distance, but couldn't find a way to get close to them.  That afternoon the rain began to fall and by the time we arrived back at our tent just after sunset we were soaked to the bone.
That night the rain turned to snow.  We awoke to several inches of snow and ice weighing down our tent, and all of our wet gear was now frozen solid.  Luckily we had come prepared with plenty of extra dry clothes, but slipping our feet into those frozen hiking boots was very unpleasant!  The beauty of our snow-covered surroundings easily made up for this uncomfortable situation however, and we knew the snow would make it that much easier to track elk.
We hiked up along the same ridge where we were camped that morning, and spent an hour or so slowly walking, stopping regularly to observe our surroundings and glass distant hillsides.  We came out from behind a group of ponderosa pine and Thomas froze in place.  I followed his line of sight and spotted the object of his attention – a good size bull elk!  He was looking right in our direction, but in a moment when he looked away I sat down and pulled the 30-06 rifle into position.  The bull was 200 yards away – a bit far for me to feel completely comfortable with taking a shot, and on top of that my view through the rifle's scope was partially obscured by a tree branch.  The elk turned, and walked off behind a stand of trees and out of view.  We waited for a bit to see if he would pop back out on the ridgeline, but I knew that I had squandered this opportunity and was already kicking myself for not being able to get a shot off.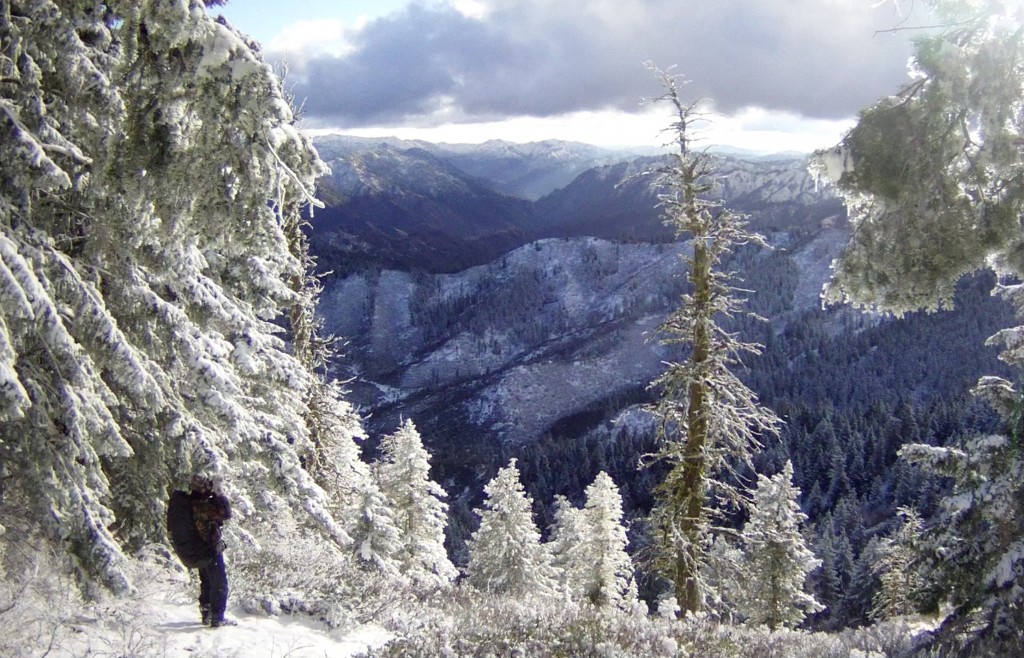 Later that day Thomas and I decided to hike to the top of a nearby peak.  We had spent some time watching a herd of elk up on the mountainside, and decided to hike up and explore.  When we reached the top of the snow-covered peak we did indeed see lots of fresh elk tracks in the snow, and were able to get up close to a group of three cow elk, but didn't see any bulls.  We climbed down and hiked back to our tent where we curled up inside our sleeping bags, exhausted.
The next day we hiked back to the road, looking for elk all along the way, but didn't see any animals.  We made the drive back to Boise a bit dejected, but knowing that we had one last opportunity to fill my tag.  We would be back the following weekend to give it one last shot.
That next weekend we were back – once again leaving Boise hours before sunrise and hiking up the same mountain as the sun rose.  I picked a spot with a nice view of a hillside where we had seen elk the previous weekend, and sat there for much of the day.  As the afternoon dragged on I grew antsy and decided to do some walking.  I hiked out to a viewpoint where Thomas had been sitting and scanning for elk – and just minutes after arriving we spotted a herd of elk in the distance – right along the hillside that I had been watching all morning!  We rushed back to the spot, but we were too late – it was dark by the time we made it back, and once again we were hiking back to our tent feeling dejected.
I resolved to return to that same spot along the ridgeline before daybreak the next morning, thinking that I could catch that herd of elk in the early morning light.  I carefully made my way back, creeping along the ridgeline in the pitch dark of early morning.  As I approached on the ridgeline, all of a sudden, I was startled by a loud crashing of brush – the elk herd was right in front of me and I had spooked them!  It sounded like a stampede as this group of a dozen or so large animals busted their way through the dense brush.  All I could do was stand and listen, crestfallen that my plan had failed.  By the time there was enough daylight to see, the herd was long gone.
This was the final day of elk season, and I now had only half a day left to fill my tag.  Thomas and I regrouped, and decided that our best chance lay in a different area.  We packed up all of our gear and hiked down the mountain to the road.  Thomas had been watching a large group of elk across the canyon on the opposite side of the river.  We waded across and began the steep climb up the opposite side.
After a couple hours of climbing we were up on the ridgeline and we began slowly creeping along, stopping to scan the open hillsides every few steps.  We made it up to a rocky point that was an excellent spot to observe the surrounding landscape, and decided to sit and wait, despite the fact that we did not see any elk.  Where had the huge herd that we'd seen from across the river gone?
After just 5 minutes of sitting three elk stood up from their hiding place behind a patch of brush about 150 yards away.  As they started to make their way across the steep hillside I got my binoculars on them and immediately saw that the last in line was a spike (a young bull elk with just one antler point on either side).  I rested the rifle on a large rock in front of me and took aim.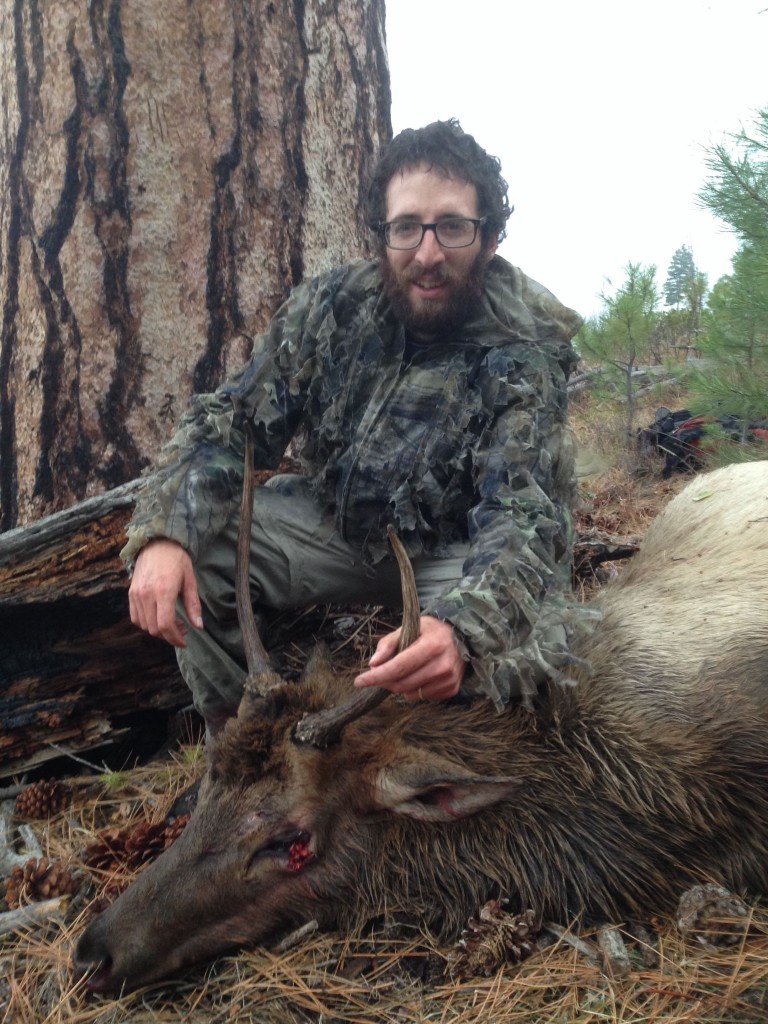 I fired a shot and the spike froze – I'd hit him!  He wavered back and forth, then dropped to the ground.  I waited; watching him through the rifle scope – if he got back up I'd be ready.  He did get back up a few minutes later and I fired off another two solid copper rounds.  He dropped to the ground once again, and Thomas and I began our approach.  He was still kicking when we got close, but one last round to the head ended his suffering.  I watched in awe as this massive animal took his last few breaths.
There was an hour or two until sunset and the rain started to fall.  Processing this animal and hauling the meat down the mountain would be no small feat.  We got to work right away, separating and skinning the quarters and removing the meat from the body.  Everything went into game bags and was strapped to our packs for the long haul down the steep hillside.  The final step was to remove the heart and liver – by this time the sun had set and we were surrounded by complete darkness.  We switched on our headlamps and strapped on our packs, now laden with roughly 150 lbs. of elk meat each.
The hike down was steep and difficult, largely due to the extremely heavy loads strapped to our backs.  The rain continued to come down, and by the time we reached the river we were thoroughly soaked and exhausted, but filled with a strong sense of accomplishment.  We waded across the river, taking several trips to haul our heavy loads, and celebrated at the truck with a dry set of clothes and a heaping slice of birthday cake (Thomas had celebrated his birthday the previous week).
It took an entire day for Thomas and I to finish butchering the elk back in Boise.  I had to go out and buy a freezer, which I immediately filled with fresh meat.  There are many things that are satisfying to me about going through this process of harvesting an animal and processing it for consumption.  The most obvious is the satisfaction that comes with having a year's supply of meat in the freezer, but almost as strong is the feeling of connection with my local ecosystem.  By harvesting an elk I am playing the role of predator – I am now a member of this natural system, rather than just an observer.
Lastly I have demonstrated, once again, the effectiveness of alternatives to lead-based ammunition.  I shot my elk with 168 grain Barnes triple-shock bullets designed for a 30-06 rifle.  The damage caused by these bullets was devastating, and I have no doubt that their effectiveness is comparable to any lead-core round.  Because I used non-lead, I can feel good about the parts of the animal that were left behind in the field – I have provided a safe meal for the local wolves, coyotes, eagles, ravens and other scavengers that call this area their home.  Just minutes after shooting my elk a Golden Eagle circled overhead, knowing that he or she would soon be in for a feast.  I am certain that the remains of this animal have not gone to waste.  If there are folks out there reading this who are unfamiliar with the issue of lead poisoning in wildlife, you can now watch the film I produced and directed all about this issue right here on our website – click here to watch now!
And of course I don't have to worry about the presence of tiny fragments of lead in the meat that is currently sitting in my freezer.  This is especially important to me because I care so deeply about the health of my one-year-old son.  I'm not willing to take any chances when it comes to his health, and since we all know that there is no safe level of lead in the human body, I strive to keep him lead-free.